Efficient Management Accounts Services to Help You Make Informed Business Decisions
Base your strategy on the right information – quarterly or monthly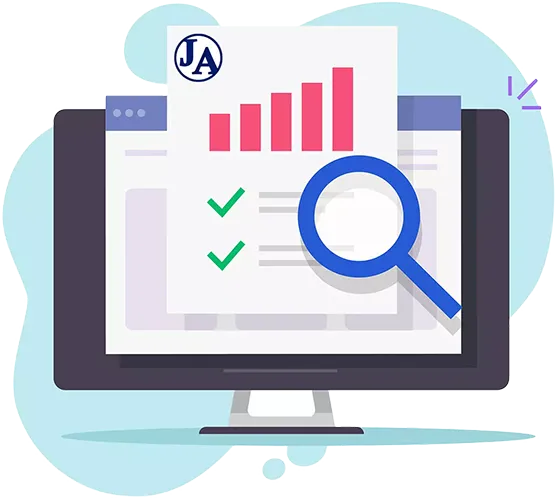 Management accounts for all companies
Choosing Jacksons Accountants to handle your management accounts can provide numerous benefits for your business. Our accounting firm is equipped to provide you with timely, accurate and insightful financial information that can help you make informed decisions about your business.

We work closely with you to tailor our services to your specific needs and provide ongoing support to help you achieve your business goals. With our in-depth understanding of the latest accounting standards and regulations, you can be confident that your financial records are in good hands.

Management accounts aren't just for larger companies; whether you're a freelancer, self employed, a limited company or a landlord you may benefit from our reporting expertise.

Book a consultation to discuss your needs and we can work together to make great things happen.
Need help with your management accounts?
Tailored and Fast Management Accounts
Management Accounts Information
Our management accounts are designed to provide business owners with information that's key to decision making.

You can direct your growth in the right direction and give your company the best chance of excelling.

Key Performance Indicators will provide an overview of past performance and drive improvements for the future.
The full picture
Profit and loss and balance sheet reports only tell part of the story. Looking beyond the numbers will show how the company can expect to perform in the future. See our article on managing cash flow.

At Jacksons Accountants, this is what we will do. Breaking down key financial information into simplistic terms and also delving into the key drivers of profitability.
Our experts will also look at the non-financial information to analyse trends and provide insight into new opportunities.
Data harvesting
Many SME's hold a lot of data on a multitude of things with no mechanisms to tap into this invaluable resource. Our management accounts will do just that.

We work with you to build bespoke spreadsheets and reports, to turn your data into information at your very fingertips.
Outsourcing
We hope that, like us, you got into business to do something you enjoy. Or you might have wanted a better work-life balance. Either way, with our management accounts, Jacksons Accountants will be able to save you several hours a week in head-scratching, frustrating administration that you can now spend however you want.
Our Process
Top quality management accounts
Jacksons Accountants pride ourselves on giving you a personal, well-rounded service that works around you on a monthly subscription.

We strive to exceed expectations and as we get to know more about your business, our experts will be well placed to advise you, giving you and your business the best chance to succeed.
Tax advice
A key benefit of outsourcing your bookkeeping to us is that our tax advisors can spot any tax advantages before, during and after any transactions that you make.

We can provide insight into tax consequences and ensure that you are making informed decisions.
Cloud Accounting
Included as standard in all our packages, cloud accounting links to your business bank accounts. You can send receipts or expenses via the app.

You will have all the key information about your business at your finger tips. On the go, wherever you go.
Frequently
Asked
Questions
Check out some of our frequently asked questions
Jacksons Accountants are partnered with the best software providers