VAT returns management
VAT returns made simple
Whether you're a freelancer, a sole-trader, a limited company, book a consultation to discuss your VAT needs and we can work together to make great things happen.
Top quality service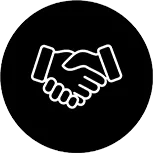 We pride ourselves on giving you a personal, well-rounded service that works around you on a monthly subscription.

We strive to exceed expectations and as s we get to know more about your business, we will be well placed to advise you, giving you and your business the best chance to succeed.
Tax advice
A key benefit of outsourcing your bookkeeping to us is that we can spot any tax advantages before, during and after any transactions that you make.

We can provide insight into tax consequences and ensure that you are making informed decisions.
Cloud Accounting
Included as standard in all our packages, cloud accounting links to your business bank accounts. You can send receipts or expenses via the app.

You will have all the key information about your business at your finger tips. On the go, wherever you go.
Frequently asked questions